CHEF + ACTIVIST
Lives In: Crown Heights
Working Toward: Access to Culinary Jobs and High-Quality Food in Challenged Communities
---
Early on in her career, Mavis-Jay Sanders knew she wanted to climb to the highest perches in the food world. Having done that, now she wants to share them.
Born to a military family with roots in Georgia, Sanders knew by high school that cooking for people was the thing that brought her joy. It wasn't until she was already in college, studying something she wasn't passionate about, that she became determined to make a career in food. Within a few months of finishing her bachelor's degree, she was enrolled at the prestigious Culinary Institute of America in Hyde Park, NY.
"I was aware that being a Black, queer-presenting person, and a woman, that I was going to need to go as hard, as high, as fast as possible," Sanders says. With CIA training on her resume, Sanders worked hard (and sometimes for free) to impress the people willing to give her a chance in the kitchen. Work wasn't always easy to find—unlike some of her peers, no one was taking Sanders under their wing to offer opportunities and guidance. Speaking about chefs who take on these mentor-like roles, she says, "They'll often pick somebody that looks like them, somebody they can relate to, and that's just not me." Without many queer Black chefs to look up to, Sanders became her own coach.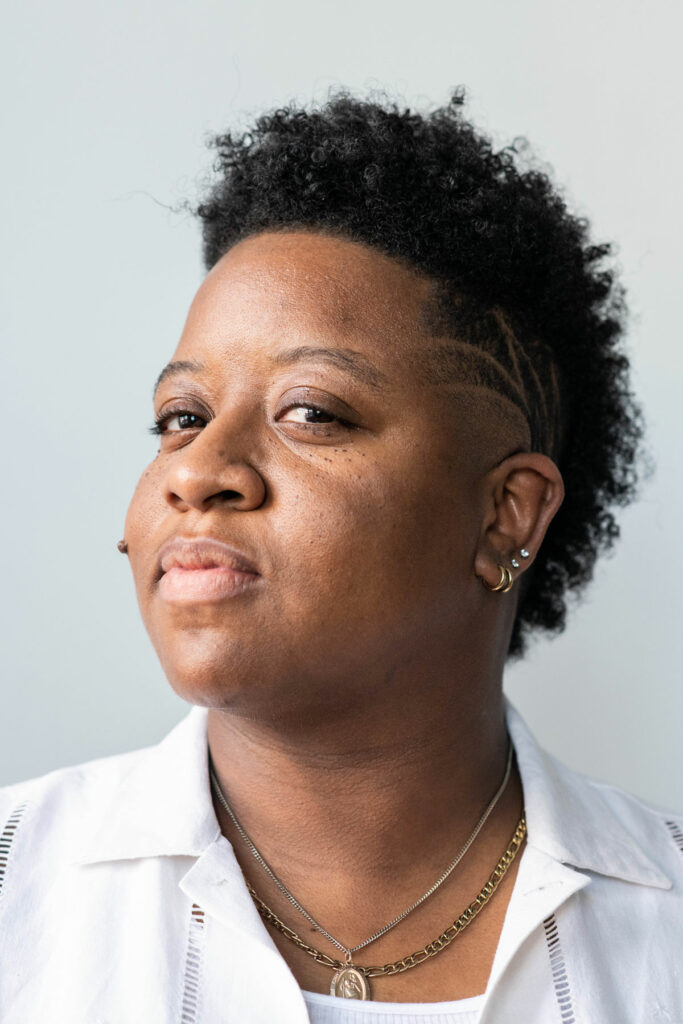 "I would find the best person, whoever I thought had the strongest skills, and I would just race them in my head," she says. "I'd watch them and see what they would do." That's how she ultimately earned herself positions at Blue Hill at Stone Barns, Blue Hill New York, and Untitled at the Whitney.
After a few years, though, Sanders felt that fine dining was losing its shine. She recalls seeing chefs she admired having their creative contributions snubbed by their superiors and watching white kitchen staff landing promotions over more their experienced BIPOC colleagues. But the real turning point for Sanders, as it was for many, was the wave of protests that arose in the city after Eric Garner's murder by the NYPD. Leaving the high-end restaurant she worked at that night, she came face to face with waves of protestors shouting, "I can't breathe." Stunned, she turned around and went back to the restaurant, where the scene was starkly different from what was going on in the streets. From inside, the protestors weren't even audible.
"These people were partying it up, spending more than my rent money on a bottle of wine," Sanders says. "Before, my entire focus was on how to be the best in food, how to make the best food. And that was the first time that I was really starting to question, who was I feeding? And did it matter?"
She began volunteering with various community groups and sitting in on meetings to educate herself on the broader issues of social equity and food justice, and it wasn't long after that that Sanders started to look at different career paths. After
spending a couple of years in LA collaborating with other culinary creatives on Pico House—a food truck serving high-quality, sustainably sourced, affordable food—opportunity called Sanders back to New York. She began working as operations director of the Brownsville Community Culinary Center, an entity that offers free culinary training and other services to help participants from the neighborhood's underserved community launch their own careers in food. It also functions as the only sit-down restaurant to serve Brownsville, Brooklyn, in half a century.
In the summer of 2020, she found another way to provide the sort of mentorship she herself would have liked to receive early in her career. At the height of the pandemic, Sanders started working at the organization Drive Change, teaching culinary skills to formerly incarcerated youth and using her own connections to identify employers willing to invest in young culinary talent—these were workplaces that shared Sanders's values of "service, care, humanity, and dignity."
"I just like to put those things out there and make space for people who look like me and may have similar stories—being Black, being a woman, being queer," she says.
It was this kind of investment in her students that sparked her next idea, the one that would eventually win her the 2022 Leadership Award from the James Beard Foundation. Her students were looking for ways to get involved in their community, and the administrators of Drive Change (a project that connects formerly incarcerated people with work in hospitality industries) wanted a way to keep their graduates working and their skills sharp. Sanders reached out to Friends of Marcy Houses in Bed-Stuy and other community groups to assess their needs. She ended up organizing a food access program that would provide prepared meals as well as necessary groceries to impoverished New Yorkers. She also connected with folks she knew in agriculture, primarily Black organic farmers, to source the highest-quality foods possible.
For Sanders, where food comes from is as much of an issue of justice and equity as food access. That's why one of her long-term goals is to support independent Black farmers by providing land and other resources. But for now, Chef Mavis-Jay is still in
New York, working with a number of community organizations that include God's Love We Deliver and the Queer Food Foundation (of which she is a founding member). And despite her already expansive career and bigger goals ahead, Sanders's day-to-day is guided by a simple principle.
"Every day, I'm going to perform an act of care, whether that's being mindful about holding the door or helping somebody get a stroller up a flight of stairs. People do that, generally, but I want to be intentional about it. I want to do at least one thing that's going to have a good impact on somebody."